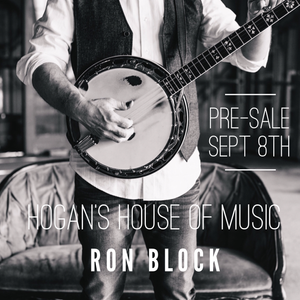 The new bluegrass instrumental record, Hogan's House of Music, goes on preorder September 8th. Pre-sale will be on RonBlock.com, iTunes, RabbitRoom.com, and other outlets. 
Buy early and receive three downloads of the tunes instantly: 
1. "Smartville" (with Clay Hess, Barry Bales, Jerry Douglas, Adam Steffey, and Tim Crouch).  
2. "The Spotted Pony" (featuring Stuart Duncan and Alison Krauss).
3. "Carter's Creek Pike" (with Dan Tyminski, Sam Bush, Byron House, Jerry Douglas, and Lynn Williams). 
Buy early from RonBlock.com and get the aforementioned tunes PLUS two exclusive free downloads of extra songs not on the record: 
4. "Fireball Mail" (Tyminski, Steffey, Crouch, Bales, Rob Ickes, and Williams),
5. "Little Darlin' Pal of Mine" (Sam Bush, Tyminski, Byron House, and Tim Crouch).