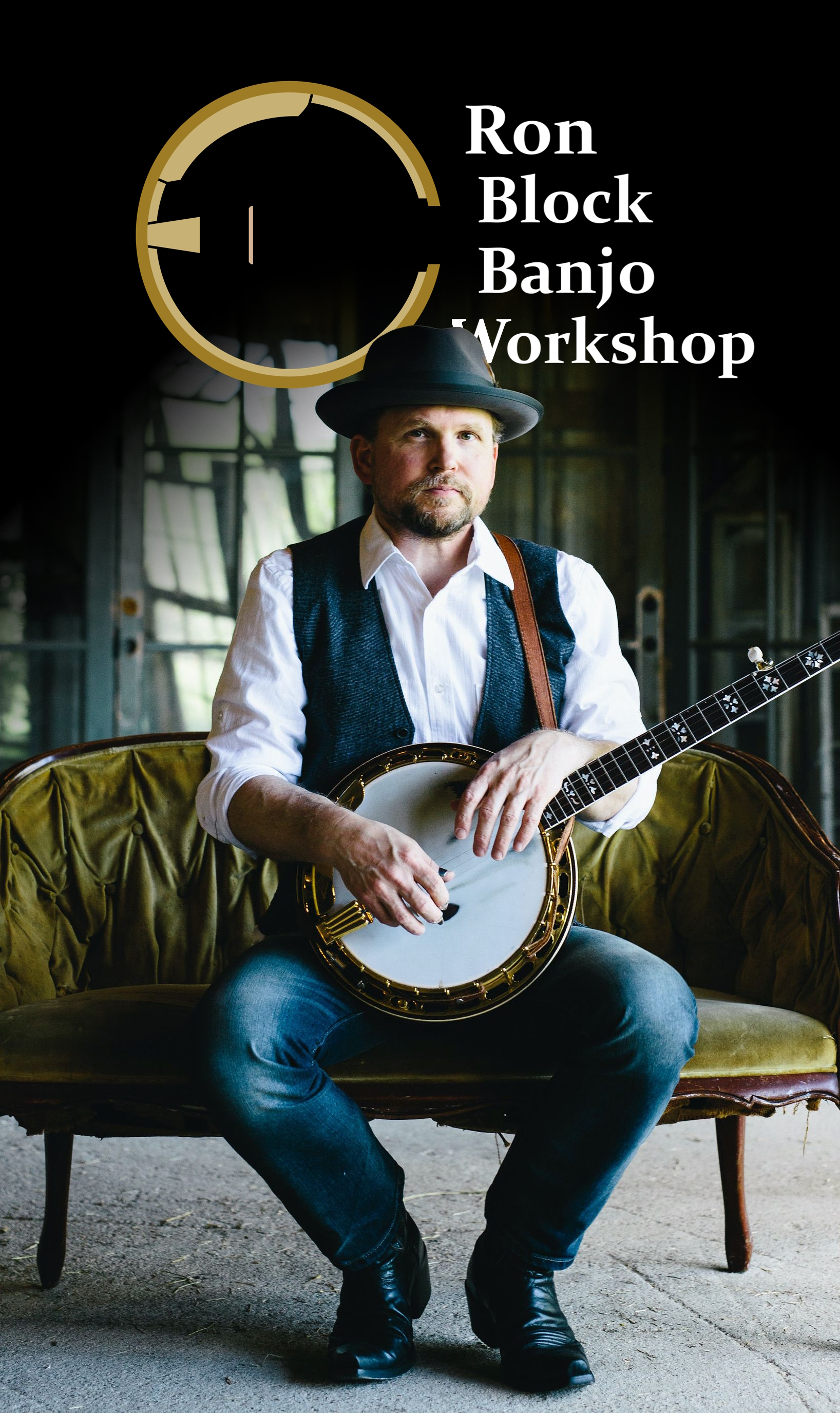 The Ron Block Banjo Workshop app is up and running! It has plenty of lessons up for your banjo journey, and more will be continually added. Go to the web app to browse at the Learn tab, or sign up and subscribe at the Plans tab. 
Web app: https://ron-block-banjo-workshop.passion.io/learn/products
After signing up, go to the App Store and search "Ron Block Banjo Workshop" and you can sign in to your account.

Or - you can download the app and subscribe through Apple. 
For Android phones, go to Google Play and download the Passion.io app. Search in the app for "Ron Block Banjo Workshop" and you'll find it.
Growth
I've spent decades looking into ways to continually improve my own playing by studying other players, reading, watching instructional videos, transcribing, and even taking online lessons myself. I've taught lessons and workshops for years. The Ron Block Banjo Workshop app will be the place I share my years of learning with you.
Community
There's a community tab where I'll come in every week to chat and answer questions. It's also the place to give feedback on your experience, your progress. I've spent a lot of time in online discussion on the Banjo Hangout and other places, but there's no place I'd rather talk about banjo than right here.
Now Available
1. Beginner Banjo. Even for intermediate and advanced players, there are some of these short videos you won't want to miss. No tab, just old-fashioned attention, observation, and imitation.

2. Hogan's House of Music. Audio files of my bluegrass banjo instrumental album, with bluegrass luminaries like Alison Krauss, Jerry Douglas, Dan Tyminski, Barry Bales, Stuart Duncan, Sierra Hull, Clay Hess, Sam Bush, Byron House, Tim Crouch, and Lynn Williams. I'll be breaking these down in the near future - for now, check out the Clinch Mountain Backstep lesson for my first two breaks from the album.

3. Bending Strings in a Bluegrass Context. In which I talk about and demonstrate string bending techniques. With printable tab.

4. Developing New Licks and Ideas. I use a solo by Earl Scruggs, break it down, and then use his licks to create new ones. With printable tab.

5. Mini-Lessons. Short little informative bits on attention to detail, dynamics, transcribing, backup, expression, and more. This section will grow and grow.

6. Lesson: Clinch Mountain Backstep. My version of Clinch as played on Hogan's House of Music, first two breaks, with printable tab.

7. Lesson: Man of Constant Sorrow. My solo from the O Brother Where Art Thou soundtrack, broken down, with printable tab.

8. Lesson: Foggy Mountain Special. My second break from the Earl Scruggs tribute album of the same name, with printable tab.

9. Lesson: The Old Hometown. Earl's original break from the recording, with printable tab.

10. Lesson: You Don't Know My Mind. One of my favorite J.D. Crowe breaks, from a live recording. With printable tab.

11. Banjo Music Videos. Fun videos I've made through the years. This will be another section I'll be adding to.

12. Short Talks On Music and Life. I did this series of videos after I recorded Hogan's. I'll be adding to these at some point.
13. Creating Melody-Based Solos. The videos for this are being put together - the first two are up!
Future Lessons
1. From AKUS to Irish - a course on my banjo style with AKUS, and my genre-bending bluegrass/Celtic  compositional collaboration with Irish tenor banjo wizard Damien O'Kane. 
2. AKUS Backup Banjo - lessons on my backup playing with Alison and the boys.
3. AKUS Songs - individual songs and tunes recorded by AKUS. This will be an ongoing project.
4. 
Banjophonics
 and 
Banjophony
 - individual tunes recorded with Damien O'Kane. Another ongoing project.
5. Hogan's House of Music - tunes from my bluegrass banjo instrumental album.
6. Live courses! The app can do livestreaming.

7. I'm also open to suggestions!

For now, thanks again for joining! 

Best, 
Ron