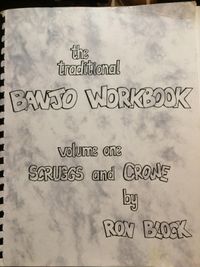 Hello folks! I've got a couple of videos up on my Facebook page (
Ron Block of Alison Krauss & Union Station
); one is a short talk about my approach to banjo backup. The second video is an up-to-speed and slow-speed version of the first tune, "The Old Hometown," from my long out-of-print
The Traditional Banjo Workbook
. A YouTube link to the song is below the Facebook video in the comments, along with a scan of the tablature. 
I plan to do more of these free videos in the future, both for 
The Traditional Banjo Workbook
 (featuring solos from Scruggs and Crowe) and 
The Traditional Guitar Workbook 
(featuring solos from George Shuffler, Larry Sparks, Don Reno, Bill Napier, Junior Blankenship, and Clarence White).
"Like" my Facebook page and/or follow for more videos and updates for Facebook Live banjo/guitar workshops.
Best, 
Ron