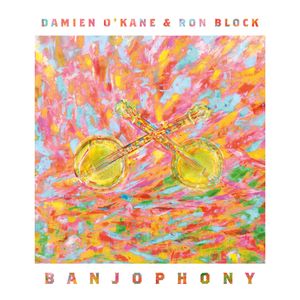 My most recent record (or album, as Damien O'Kane would say) Banjophony has been out for nearly a month now and we've been thrilled by the brilliant response to our 'cooperating-banjos' sound! There are exciting bits of news we can't mention yet but, for now, here's what some people have been saying about Banjophony, which is available on Amazon as cd or download and iTunes. 
'Fuses together Irish and American bluegrass traditions with impressive ambition' - FOLK ALBUMS OF THE MONTH, The Guardian, July 2018 
'Individually Damien O'Kane & Ron Block are masters of their instruments. In Banjophony, they've taken a collective approach to create an album of incredibly captivating music' - Folk Radio 
'They have invented the title Banjophony to describe their sound. I would have called it simply gob-smacking' - 5*Review Spiral Earth 
'Banjophony goes deep into the American-Irish cultural connectivity in a soulful, intricate way' - Irish Music Magazine Official 
'The banjo has too often been the subject of jokes but this transatlantic duo has produced a truly magnificent album - Shire Folk Magazine (Sep/Oct 2018) 
'If you weren't up for swinging your pants to a banjo tune or two, you are now...Ron and Damien are flying the flag for making the banjo more cool and even sexier' - Louderthanwar 
'Banjo playing is the new rock n' roll and you better believe it after listening to this wondrous album' - 4* Review http://getreadytorock.me.uk/blog/2018/07/quick-plays-chinawhite-calm-for-the-restless-damien-okane-ron-block/
"I challenge banjo non-believers not to be moved by this transatlantic banjo union" - Lynette Fay BBC Radio Ulster 
'Absolutely delightful – a superb piece of music by two big banjo players. Working in harmony and tandem – a superb sound. Just so sweet' - BBC Radio Merseyside 
'Phenomenal! I was utterly blown away by these guys. Exquisite musicianship. My gig of the year' - Ralph McTell (after a live show). 
"Beautiful and wild...there are no boundaries here" - Jerry Douglas 
"Banjophony is the soundtrack of summer" - Kate Rusby 
Thanks for all the banjo love!